Long distance running has always struck me as painful and frankly a little dull. Nonetheless, it's all the rage these days, so I did some intrepid research to find out why.
It was on Queen Square that I stood with George's dad watching the Bath half marathon. After variations on "I can't see him yet, can you?" we eventually dropped the small talk and watched the rhythm of runners jogging by.
From our spot at the bottom corner of the square we had a good view of those running towards us then turning the right angle before disappearing along its third side. Queen Square is a nice spot with Georgian town houses surrounding a leafy park where a group of drummers was driving the competitors on.
There was a good atmosphere in the crowd, which was about four or five people deep on the pavements and the sun was out. There was always someone suddenly spotting a friend and shouting "there she is, there she is!" or "come on Dave!" or cheering for people they didn't know – for people dressed as breasts for a breast cancer charity, or the kind of daft people who run marathons dressed as robots who make you wonder what on earth motivates them, or some weird exhibitionist wearing nothing but a pair of Speedos.
A marathon is a pleasing thing to watch. While scanning the swathe of panting people for George (so we could shout "there he is, there he is!" or "come on George") it was hard not to be impressed by the sight of it. According to the event's organisers, 12,700 people took part in the run (although the results table seems to suggest only 11,352 actually finished it…). Watching that mass of humanity jogging by at quite a high pace is strangely absorbing.
With tens of people flitting past each second, it's hard to fully focus on any single one. Yet occasionally one holds your attention and you watch them bobbing by. The weeks of training, all their different motivations; to have a bit of purpose, to have something to say for themselves, to lose a bit of weight, to achieve a personal goal.
The loop
The Bath Half goes through Queen Square twice. It seemed that, first time round, we'd missed George, and as a large proportion of the runners had now gone by once, it was back to making comments with George's dad. There were just the stragglers coming through the square. The occasional injury hobbling by with a hamstring.
But then shortly we heard the drums pounding hard again and practically sprinting towards us up the straight came Robert Mbithi, a 26-year-old Kenyan currently ranked 85th in the world for men's road running. Mbithi was in and out of sight in a flash. When you rarely see top athletes in the flesh it's hard not to be amazed; pure lean muscle, a different species.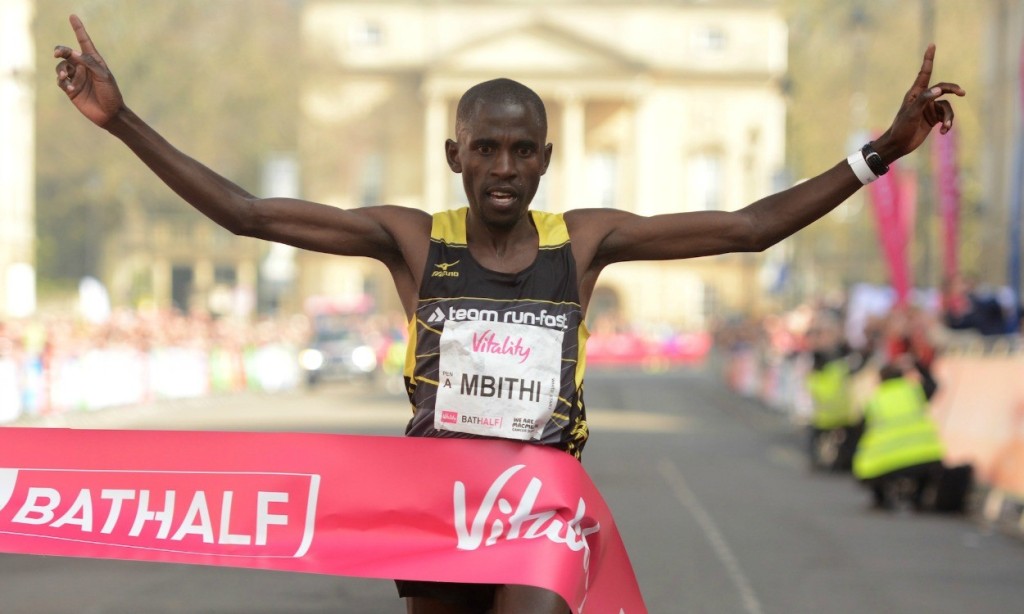 Source: Athletics Weekly
In brief flashes the professionals zipped past us over the next couple of minutes, followed shortly by the personal best hunters and semi-pros. Again, the main pack of runners started swelling by and some time later, I spotted George, "there he is, there he is!"
Why the renaissance in running?
Running has become noticeably popular in recent years. It seems like every town or city is annually host to at least one half-marathon, besides a whole load of full marathons, ultra-marathons and other 'tough guy' challenges. And according to data from the Association of Road Running Statisticians, that figure is constantly on the rise. Data from England alone shows that since 1980, the number of annual marathons has grown almost 30 times: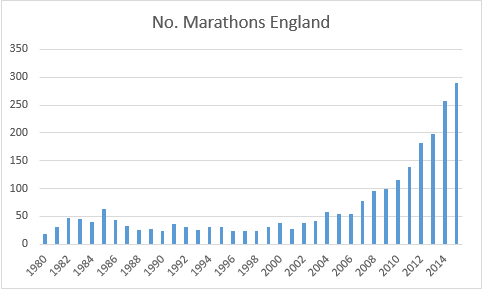 Source: ARRS (treated by me) 2016
So how come marathons have become so popular? According to Traviss Willcox, chairman of the 100 Marathon Club (a group for long distance runners in the UK and Ireland), a major reason for this growth is a change in perception.
He explained "I think the main reason for the growth is that people have found that it's achievable". In the past, many people thought you may 'drop dead' since marathons were seen as so hard.
However, now even "very average people with a bit of work and a bit of stubbornness can achieve marathon distance and there are more friendly, accommodating events. For example, 20 years ago the Isle of Wight Marathon didn't give you a medal if you finished over 4 hours. Now there are events when you'll be cheered in like mad if you take 6/7+ hours… which is a lot less daunting than 3:45!"
Why run at all?
That view is mirrored by Matt Deamer, 28, a keen marathon runner who completed his first marathon in December 2014 and has gone on to finish eight more, plus a couple of longer runs too. "I think [a reason they're getting more popular is that] people may be seeing others' achievements via social media or from watching events on TV such as the London Marathon and Great North Run and then wanting to challenge themselves too". Distance running is also appealing for other reasons – "people are trying to stay in shape and running seems to be a cheaper alternative to the gym/fitness classes".
There's a lot of reasons why people start lacing their running shoes up. For Matt it was about fitness and the challenge: "I felt like my fitness was on the decline a little so I decided to run a lot more, then once I'd run a few of the shorter races I wanted to challenge myself so upped the mileage. Then once I'd run one or two marathons, I was hooked!"
George's (27) motivations were a little different when I asked him: "there was a 'Scrubs' episode I watched maybe ten years ago where one of [the main character's] bucket list goals was to run a triathlon before he was 30 and so I thought "yeah, let's get stuck into some running" so I signed up to it as a way to motivate myself to do something fitness related".
There were other reasons to go running too – "another reason perhaps is to have a sense of community – running, you know, with thousands of other runners. And I'd also done a 10k in Madrid before which I'd really enjoyed for that reason. And, also, perhaps a growing sense of fondness for my place of birth – Bath."
Back at the finishing line
From Queen Square we walked to New Bond Street then across Pulteney Bridge to Great Pulteney Street where the runners run in.
Once we found a spot among the crowd ("there she is, there she is", "come on Dave"), we listened to a local radio presenter doing ad lib commentating as the runners crossed the line in front of us. The semi-pros, the people dressed as boobs, the exhibitionist in his Speedo's, the desperate man dressed as a robot. And it was great to see all those regular people reach the goals they'd set themselves; to have a bit of purpose, to have something to say for themselves, to lose a bit of weight, to achieve a personal goal.